Laundry & dry cleaning with 24h delivery in

Boston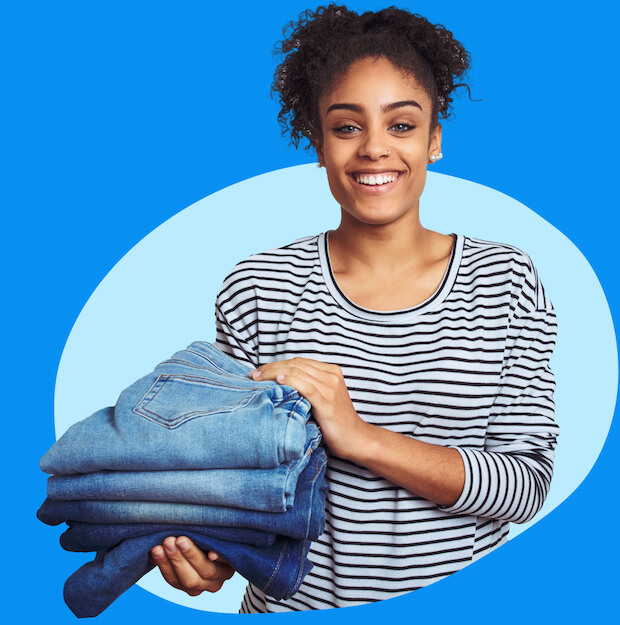 We collect, clean, and deliver
your laundry and dry cleaning.
24h turnaround time
Free collection and delivery
Dedicated 24/7 support
freedom from laundry
A laundry service designed for you
Never worry about staining your favourite shirt. We offer laundry, dry cleaning and ironing in Boston at a schedule that fits your lifestyle.
See how it works
---
24h turnaround time
No need to plan in advance
---
24/7 customer support
We're here for you
Any change in delivery times or date, or if something goes wrong, we are here. Our online customer support team will assist you day and night.
Wash
Wash & Iron
Dry Cleaning
Duvets & Bulky Items
What is included
Includes
WASH + TUMBLE-DRY
Includes
WASH + TUMBLE-DRY + IRONING + ON HANGERS
Includes
DRY CLEANING + IRONING + ON HANGERS
Typically included items
Suitable for t-shirts, trousers, bedsheets undergarments and more.
T-shirts, trousers, bedsheets and undergarments.
Suitable for shirts, t-shirts, trousers, bedsheets and more.
Shirts, t-shirts, trousers and bedsheets.
Suitable for suits, shirts, dresses, coats and more.
Suits, shirts, dresses and coats.
Suitable for duvets, pillows, blankets and more.
Duvets, pillows and blankets.
Service time
24h*
Turnaround
24h*
Turnaround
Pricing
Delivery
Items returned
In a Laundryheap bag
Delivered in a Laundryheap bag
On hangers
Delivered on hangers
On hangers
Delivered on hangers
In a Laundryheap bag
Delivered in a Laundryheap bag
Eco friendly
eco friendly
eco friendly
eco friendly
eco friendly
Our minimum order value is $30.
*In most locations.
by 5,000+ Users
The service in Boston is exceptional - pick up and drop off at the Condo was within the times booked and the online tracking tool tells you almost to the minute when the service will arrive and updates in real time so you are ever left "hanging" or wondering what is going on.
Roman

The Cleaning is always excellent and clothes come back nicely hung so they can go straight in Wardrobe or be worn straight away. I highly recommend Laundryheap to anyone looking for great cleaning in Boston, great service, and at a very competitive price.
Grace
Me being Lazy, was looking for an option to dry clean my work blazer. Found Laundryheap, was initially unsure as never tried before. But honestly it's pretty straightforward, on time pick up and delivery. No issues. Did what I expected. Will definitely use again.
Dave
Reinventing the future
of laundry and dry cleaning.

Zero-emission delivery vehicles

Efficient water use

Trustworthy local cleaners
About us
Meet the team
We're a global team of laundry, tech, and logistics experts on a mission to free people from laundry so that they can spend more time doing what they
Team Laundryheap
Your Laundry and Dry cleaning solution just a click away

Cashless Payments

Contactless collection and delivery

Real-time order updates

Dedicated 24/7 support
---

Do you wash my clothes together with other people's clothes?
Absolutely not. Each order is washed separately so no need to worry about that. Your clothes are safe with us!

Where do you clean my clothes?
After your items are collected by our driver, they are taken to one of our trusted partner facilities to ensure your items are treated with the utmost care. We take pride in supporting local businesses and minimizing the carbon emissions from transport.

What is the turnaround time?
You will be happy to know that last month we have delivered 98.7% of all standard laundry and dry cleaning within 24 hours.

What if I'm not at home during collection or delivery?
Not a problem. If you won't be at home during delivery, you can use our mobile app to simply reschedule or instruct the driver to leave your items in a safe place or at a reception if you have one. You can also always contact our Customer support team to get help.
Laundryheap in Boston
No time for laundry Boston? Don't worry we've got all your laundry needs covered! Laundryheap is an online, on demand laundry service which offers customisable, convenient and affordable laundry and dry-cleaning services. We tailor your orders according to your needs and work within your schedule. Functional across Boston, we offer the best prices with a 24-hour turnaround time. Clothes picked from your front door and returned clean, ironed and ready to use all within 24 hours, can you ask for more?
Boston delivery and pickup
Boston, looking for clean clothes at the click of a button? Yes, it's as simple as it sounds. Laundryheap offers quick and easy booking services. Visit the laundryheap website or download the laundryheap app for free, and let the magic begin. Delivering contactless and within 24 hours, we also offer free pick-up and delivery, realtime order updates, cashless payments and make sure that the clothes you get back are spotless and ready for action.
Laundryheap in United States